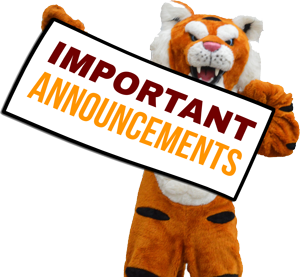 Freedom Announcements
SMS - Jen Balster
Wednesday, September 05, 2018
We would love to show our ALL school spirit with a Freedom t-shirt available for $5 apiece - this can be purchased for family members as well as the learners here at Freedom. The flyer with the link for ordering is located on the Tiger Tuesday portion of the website. If this is a financial hardship for you, please do not hesitate to contact Jen in the office at jen.balster@k12.sd.us and we will get it worked out!
Important Dates:
10/04 - NO SCHOOL
2pm - 8:30pm Parent-Teacher Conferences
10/05 & 10/08 - NO SCHOOL
10/16 - 7-8pm Parent Empower Training (for Parents of Littles-Olders in Personalized Learning - More information to come)
Click HERE to view the flyers going home this week.
FREEDOM ART INSTAGRAM: HERE
FACEBOOK: HERE
FPTO FACEBOOK: HERE
TWITTER: HERE