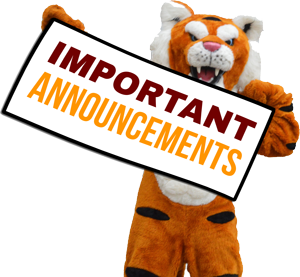 Announcements
HHS - Rox Bicknase
Wednesday, September 05, 2018
Parent Teacher Conferences will be Thursday 10/4 from 2:00 - 8:30 pm.
No School on Thursday 10/4, Friday 10/5, and Monday 10/8.
Picture Re-Takes will be on October 9th.
ONCE UPON A MATTRESS THE MUSICAL, AUDITIONS:
Auditions for the hilarious, musical comedy ONCE UPON A MATTRESS will be October 1 & 2 in the HHS PAC from 3-5:30. We need singers, dancers, actors, and people who are ready to work hard and have fun! Audition packets need to be picked up prior to auditions and will be available starting Friday, September 21 outside of Mrs. Berg's office on the Perch.
Registration deadline for the October 27th ACT is this Friday, September 28th! Go to www.act.org to register.
FALL ACT PREP COURSE - Are you planning on taking the ACT this fall or winter? If so, you should plan on registering for the ACT Prep Class being offered at Harrisburg High School. Participants will meet six times between October 24th and November 1st, with each class focusing on a different aspect of the test. A full practice test will also be offered. The cost is $75 and includes an ACT Prep Book. For more information on how to register, please sign up with Mrs. Cook in the Admin Office, G-Wing room G115. The deadline for registration is September 28th!Payment must be made at the time of registration. For those of you planning on taking the ACT in the spring, another ACT Prep course will be offered at that time – please stay tuned this winter for details pertaining to that course.
The ASVAB test is for any student considering joining the military. The ASVAB does not sign you up for the military but it is the test you will need to take to see if you can get in. The ASVAB test will be given on Oct. 19th from 8:00-11:00am. It is a free optional test for juniors and seniors. If you are interested in taking the ASVAB sign up with Mrs. Thelen.
SENIORS: The Jostens Rep will be here for Senior Graduation Cap/Gown Orders on Thursday, Sept. 27th and Friday, September 28th in the Commons over lunch periods.
The Varsity and JV HHS softball teams both won the Eastern South Dakota conference tournament on Saturday9/22/18. The Varsity team beat Brandon Valley 4-3 and the JV team beat Brandon Valley 7-5!
The volunteer club is collecting donations for the Harrisburg Food Pantry. Please consider donating a non-perishable food item or hygiene item to the collection box in the main office or on the perch.
CONGRATULATIONS to Shelby Specht! She was crowned on Sunday 9/23/18 as the new Miss SD Teen USA!!!!
What are you doing this weekend? Consider joining FCCLA to participate in their yearly lock-in. Enjoy some pizza, games, movies, and friendship. Lock-in will be this Friday (September 28th) night till Saturday (September 29th) morning. Please stop in room C122 or C120 to get a lock-in permission form. Remember, it's never too late to join FCCLA, where there's a sweeter side!
Week of Oct. 1 - Oct. 5 Schedule:


Monday = T day
Tuesday = E day
Wednesday = R day
No I or G block days next week. Early College students - Attend college courses at designated/normal times. We will adjust your HHS courses/attendance. CTE students - You must attend CTE classes according to the Sioux Falls calendar.
Parent Teacher Conferences will be Thursday 10/4 from 2:00 - 8:30 pm.
No School on Thursday 10/4, Friday 10/5, and Monday 10/8.